The most intuitive, state of the art, iPad-based Wireless Point of Sales system can be found at these great businesses.
Plain Vanilla Bakery @ Holland Village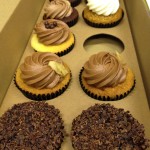 Cupcakes galore, too much choices. PV bakery is located at 2nd floor unit and if you have been there, you'll realise how much magic Vanessa does with that limited amount of space. That's also where POSLavu comes in, the iPad is mounted on a 2-arm stand and it can be collapsed; keeping it neat and sleek against the side cabinet.
Visit them at http://www.plainvanillabakery.com/
https://www.facebook.com/pvbakery